New this year for registration is the ability to upload your proof of residency documents and required physicals all online. Please click HERE for helpful tips regarding information on uploading documents. PLEASE NOTE: If you have an iPhone, it is much easier to upload your documents using the Teacherease app. The Teacherease app is not available for Android phones.
RETURNING STUDENT REGISTRATION
LOG INTO YOUR TEACHEREASE PARENT PORTAL ACCOUNT
Log on at https://www.teacherease.com/ or if you have an iPhone, please go to the Teacherease App.
Click on the menu option "Miscellaneous" then on "Online Registration". It will automatically show you your current student(s) and have you register them as returning. Fill out the registration forms. Please do not use your child's TeacherEase login. If you do not have a TeacherEase account, please email Glenda Valle at gvalle@ops125.net
All Additional Registration Forms are located in the links to the left.
IMPORTANT
All students are required by State Law to obtain a physical examination from a licensed physician prior to entrance into Preschool, Kindergarten, and 6th Grade, as well as participation in middle school athletics. Also with participation in school athletics, an IESA Concussion Acknowledgment & Consent Form needs to be electronically submitted. Please review all Health Requirements needed for your student(s) in the links. Transfer students are allowed thirty days to comply with this requirement.
PHYSICAL EXAMINATIONS AND IMMUNIZATIONS ARE DUE OCTOBER 15th (of the current school year) OR YOUR CHILD WILL BE EXCLUDED FROM SCHOOL UNTIL THE PROPER UPDATED PAPERWORK IS TURNED IN.
PAY ONLINE, MAIL A CHECK, OR IN-PERSON FOR REGISTRATION FEES
Oglesby Public School District
755 Bennett Avenue
Oglesby, IL 61348
*Service Fees will be waived if you pay electronically during the month of July.
For those wishing to pay their fees with a check or cash, please print from TeacherEase, a copy of the fees you are paying from the main fees page, and bring it with you on August 3rd.
Registration Fees can be found HERE.
Please email any K-8th grade online registration questions to Glenda Valle at gvalle@ops125.net.
For questions regarding Preschool registration, please email Kim Crook at crookk@ops125.net.
IN-PERSON REGISTRATION AT LINCOLN SCHOOL (August 2, 2022, 10:00 a.m. to 6:00 p.m.)
PLEASE NOTE: In-person registration is available to those who did not already upload the required documents, those obtaining a bus pass, and those who did not already pay fees online.
Following are the required documents that you must bring to Registration on August 2, 2022 if you did not already upload and pay fees during the online registration process.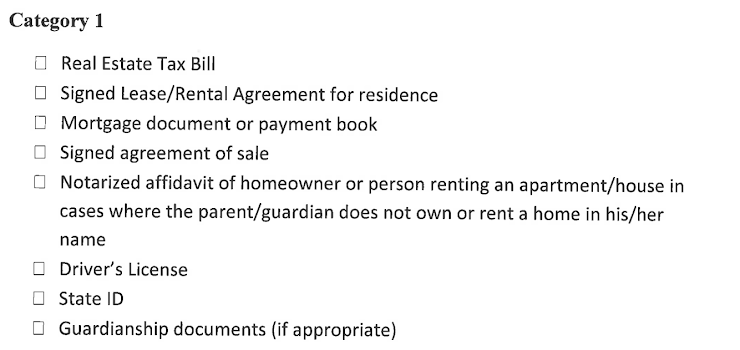 Mandatory Dental Exams for K, 2nd and 6th Grade

Mandatory Physical Exams for K and 6th Grade

Optional Medical Notices for the Nurse

Optional Extracurricular Forms
If you have a NEW (Preschool through 8th grade) student to register for the 2022-2023 school year, please click HERE. (Lincoln School is Preschool through 5th grade and Washington School is 6th through 8th grade). Once you receive the parent portal sign-up email, then you can proceed to the steps above.
You will need an email address.