RETURNING STUDENT REGISTRATION
STEP 1: LOG INTO YOUR TEACHEREASE PARENT PORTAL ACCOUNT.
Log on at https://www.teacherease.com/
Click on the menu option "Miscellaneous" then on "Online Registration". It will automatically show you your current student(s) and have you register them as returning. Fill out the registration forms. (Please be prepared to complete the full registration before starting. You will lose any updated data if the forms are not submitted at the end.) Please do not use your child's TeacherEase login. If you do not have a TeacherEase account, please email Glenda Valle at gvalle@ops125.net
All Additional Registration Forms are located in the links to the left.
IMPORTANT
All students are required by State Law to obtain a physical examination from a licensed physician prior to entrance into Preschool, Kindergarten, and 6th Grade, as well as participation in middle school athletics. Also with participation in school athletics, an IESA Concussion Acknowledgment & Consent Form needs to be electronically submitted. Please review all Health Requirements needed for your student(s) in the links. Transfer students are allowed thirty days to comply with this requirement.
PHYSICAL EXAMINATIONS AND IMMUNIZATIONS ARE DUE OCTOBER 15th (of the current school year) OR YOUR CHILD WILL BE EXCLUDED FROM SCHOOL UNTIL THE PROPER UPDATED PAPERWORK IS TURNED IN.
STEP 2: DOCUMENT SUBMISSION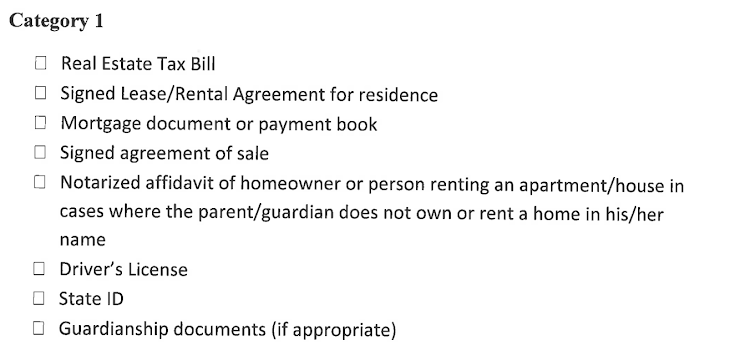 Mandatory Dental Exams for K, 2nd and 6th Grade

Mandatory Physical Exams for K and 6th Grade

Optional Medical Notices for Nurse Mary

Optional Extracurricular Forms
STEP 3: PAY ONLINE OR MAIL A CHECK FOR ONLINE REGISTRATION FEES
Oglesby Public School District
755 Bennett Avenue
Oglesby, IL 61348
*Service Fees will be waived if you pay electronically during the month of July.
Please Note: New student processing can take up to 48 hours for student information to be loaded to the payment program.
Fees can be found HERE.
Please email any K-8th grade online registration questions to tnaumann@ops125.net. For questions regarding Preschool registration, please email Kim Crook at crookk@ops125.net.
If you have a NEW (Preschool through 8th grade) student to register for the 2020-2021 school year, please click HERE. (Lincoln School is Preschool through 5th grade and Washington School is 6th through 8th grade). Once you receive the parent portal sign-up email, then you can proceed to the three online registration steps above.
You will need an email address.